Agent Knows Northern Virginia Homes
Home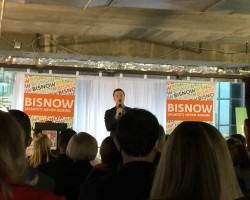 Tysons Tidal Wave Bisnow Event
This past Tuesday, at 8280 Greensboro Drive in Tysons Corner, Bisnow hosted an event talking about the Tysons Corner development plans.  The actual space the event was in was a vacant and unfinished floor of the building.  CBRE the management company of the building took time, as a sponsor, to mention the renovations that they'd done to the building and the other improvements planned.  Some upgrades both done and planned included a kitchen, a conference center for tenants, and gym with men's and women's showers.
Much of the event focused on "The Boro," project that is basically across the street from the event location.  This project is garnering a great deal of attention, as it already has pre-leased Whole Foods grocery and a movie theater.  Which will be taking up a huge chunk of the planned 250,000 square feet of retail space.
Some notes from the early part of the Bisnow Tysons event are below.
Elizabeth Morton of Transwestern spoke on "Tysons Corner Market and the Impact of the Silverline."
– Analyzed metro arrival and exit data
– Most arrive at the Tysons Center station
– Most leave from the McLean station
– Vacancy rates have office at about 16%
– stronger vacancy rate and rent growth at mixed use properties closer to metro
– Tysons is in transformation
– It is believed that future conditions will look better as Tysons is more built out
– Multi-family only about 24% of inventory now in Tysons
– in what's planned multi-family will be about 40%
– RB (Rosslyn Ballston) Corridor now has multi family of about 45%
– Transitioning Tysons to walkable/mixed use
Then Lisa Amster of Gensler spoke.  The title of her talk was "Tysons Redefined." She wanted to give the talk a different perspective, so she used the perspective of the office tenant.  And the focus was, Why are people moving here (Tysons Corner).
– Tysons is the largest submarket in northern Virginia
– 12th largest office hub/city 9am to 5pm in the United States
– Tysons is becoming a real destination
– 1.7 million square feet under construction, 9.9 million square feet of approved development, and another 4.5 million square feet proposed
– Meta Trends are that: Leading smarter lives, Hyper connectivity expected, Expect constant connection, Constant stream of data, and a desire for Experiences that matter, Seeking destinations that matter, Dead spaces not tolerated
– Likability is about connection and wellness
– 28+ million square feet of existing office space in Tysons; 12+ million of that square feet is class B/C
– some of the older buildings need a little love
– Tysons Metro Center 2 (building) was totally empty when Booz Allen Hamilton left, it's now 80% leased
Tysons Migration
Here are some companies who moved to new Tysons Corner locations and why.
LMI
Need to keep the same zip code
Great proximity to the beltway
Visibility from the highway
Right image for their people
Sense of openness and connection
park like setting
Troutman Sanders
Stayed in Tysons Corner for client base of financial services clients
Took less square footage in a new building
But got higher quality building for about the same price
Intelsat
Moved from iconic building in DC that had no amenities
Passionate about amenities and metro accessibility
Wanted image of high quality when walking into the building
Great environment for staff and great visitor center
Presence on the highway
Reed Smith
Relocated from falls church
Wanted a more hip and youthful environment
Attract younger lawyers
Nationwide they don't call this their Northern Virginia location, they now call it Tysons
cock ring review said at June 21st, 2018 at 2:12 am

Really informative article post.Much thanks again. Awesome.

John Faraday said at June 22nd, 2018 at 12:51 am

Muchos Gracias for your blog.Thanks Again.

john newmann said at June 22nd, 2018 at 10:58 am

u9F2hN Rattling clean internet internet site , appreciate it for this post.
Leave a Reply