Agent Knows Northern Virginia Homes
Home
Tysons Corner Category
Tysons Corner properties for rent. We currently have 5 great properties available for rent in Tysons Corner ranging in price from $1,295 to $2,800. 2 of our rental properties are located at the Fountains at McLean. Both are 1 bedroom 1 bath condos. 1 is priced at $1,350 and features vaulted ceilings and a fireplace, perfect for keeping cozy this cold winter. The other property is $1,295 and features new paint and new carpet throughout! The Fountains at Mclean is located in... Continue Reading >
Year to Date Townhome Sales in 22182 A quick update on townhomes sold this year in 22182 and some of the key sales statistics for 22182.  Days on Market and List vs Sold price ratio are some of those key statistics. So far this year, there have been 63 townhomes sold in 22182.  They were on the market as little as 0 days, meaning it sold the day it was listed, and as long as 145 days, with an average days on market of 14.  As a whole these townhomes sold... Continue Reading >
The Fountains at McLean  Year to Date Condo Sales. A quick update on what's been sold this year in The Fountains at McLean and some of the key sales statistics for The Fountains at McLean.  Days on Market and List vs Sold price ratio are some of those key statistics. So far this year, there have been 18 condos sold in The Fountains at McLean.  They were on the market as little as 0 days, meaning it sold the day it was listed, and as long as 36 days,... Continue Reading >
Westwood Village  Year to Date Condo Sales. A quick update on what's been sold this year in Westwood Village and some of the key sales statistics for Westwood Village.  Days on Market and List vs Sold price ratio are some of those key statistics. So far this year, there have been 5 condos sold in Westwood Village.  They were on the market as little as 3 days and as long as 53 days, with an average days on market of 17.  As a whole these condos... Continue Reading >
Lillian Court at Tysons II  Year to Date Condo Sales. A quick update on what's been sold this year in Lillian Court at Tysons II and some of the key sales statistics for Lillian Court at Tysons II.  Days on Market and List vs Sold price ratio are some of those key statistics. So far this year, there have been 9 condos sold in Lillian Court at Tysons II.  They were on the market as little as 0 days, meaning it sold the day it was... Continue Reading >
Gates of McLean Condo Sales. A quick update on what's been sold this year in Gates of McLean and some of the key sales statistics for Gates of McLean.  Days on Market and List vs Sold price ratio are some of those key statistics. So far this year, there have been 17 condos sold in Gates of McLean.  They were on the market as little as 2 days, and as long as 67 days, with an average days on market of 19.... Continue Reading >
REI in Tysons Corner Virginia Everyone is excited for the new REI (Recreational Equipment, Inc.) that just opened in late August in the Tysons area! The new REI is located at the southeast corner of Leesburg Pike and Chain Bridge Road, and will offer two stories and 32,800 square feet of top brands of gear and apparel for all types of outdoor and sports enthusiasts. You can find top brand gear for anything from camping to climbing, cycling fitness, hiking, paddling, snow sports and...
Continue Reading
>
The 4th Quarter is here.  So lets find out what happened in Tysons Corner Real Estate in the period prior and the recent past.  In particular in the zip codes of 22182 Vienna and 22102 McLean, that make up the Tysons Corner area.  And the focus of this blog is on Tysons Corner area sales in Townhomes. Many people see Tysons Corner as a job center, but don't realize there are some great places to live.  The townhome part of the...
Continue Reading
>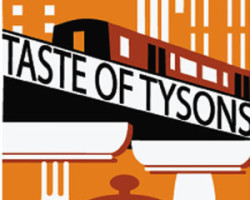 First Annual Taste of Tysons is tomorrow.  Tysons Corner wants to get in on the food action.  Watch out Reston, Arlington, Bethesda, and others.  Tysons Corner is looking to replicate the success, excitement, fun, and money raised for charity with it's own food event.  The cities above have had success with their food events: Taste of Reston, Taste of Arlington, and Taste of Bethesda.  It's a great way for a locality to celebrate it's restaurants. For those who have not attended... Continue Reading >
Lillian Court Sales update and Coming Soon Home for Sale Jeff Wu, Real Estate Specialist focusing on Tysons Corner Home Sales, McLean Home Sales, and Vienna Home Sales, is here today in front of the Lillian Court condo community with #1 a neighborhood home sales update #2 a neighborhood home rentals update and #3 a quick sound bite about an upcoming 2 bedroom 2 bathroom condo he'll be selling late next week in this Tysons Corner condo community. #1 Right now, this second,...
Continue Reading
>