Agent Knows Northern Virginia Homes
Home
Neighborhoods Category
Vienna Virginia 2 Car Garage End Town House for Sale in The Reserves at Tysons Corner This beautiful end unit townhome has been just listed.  It is a fabulous 4 level home.  This home in The Reserves at Tysons Corner community features wood floors, granite counters, and has just been painted.  It is a lot of square footage for such a great Tysons Corner location.  The community has a pool, fitness center, great common grounds, and a shuttle to the metro...
Continue Reading
>
Coming Soon Home For Sale Lillian Court Tysons Corner Condo March 2018 A great home will be for sale this weekend at the Lillian Court Condominium community in Tysons Corner Virginia.  This home has been recently renovated with brand new carpet, brand new paint, and brand new granite counter tops among other upgrades. For more information on this property, or anything else regarding local real estate contact Realtor Jeff Wu. Continue Reading >
Real Estate Home Sales Update Country Club Hills Fairfax Virginia February 2018 There is one property for sale right now in Country Club Hills neighborhood of Fairfax City.  That home is at 10100 Farmington Drive.  And it has been on the market for one hundred and seventy four days, and is asking $559,000. There are two homes that are under contract right now in Country Club Hills.  They are located at 10107 Cornwall Road, and 10120 Farmington Drive.  These two homes are...
Continue Reading
>
Westwood Village Tysons Corner Home Sales Report January 2018 Happy New Year!  Westwood Village is still that multi-level floor plan condo neighborhood behind the Walmart development in Tysons Corner.  This neighborhood is tucked away and very convenient at the same time to both one of the Tysons Corner metro stations and lots of local shops and restaurants. Right now in Westwood Village there are zero homes for sale. In this same 22102 zip code condo neighborhood there are zero homes under contract. There is...
Continue Reading
>
Fountains at McLean For Sale Under Contract and Sold Homes September 2017 This video was taken yesterday, Wednesday, September 27th 2017. Right now for sale at the Fountains at McLean, there are six homes for sale.  Of these six available homes, all but one are one bedroom one bathroom style condos.  These homes range in asking price from $229,900 to $258,000.  And they have been on the market as little as 25 days and as long as 113 days.  The last property...
Continue Reading
>
Tysons Green Vienna Virginia Home Sales Report for June 2017 Tysons Green is a single family home neighborhood off of Old Courthouse Road in the Vienna Virginia 22182 zip code.  It is located adjacent and to the west of the Westbriar Elementary School area.  And also very close to what's referred to as Tysons Corner. Right now there are zero (0) homes actively available for sale in Tysons Green. There are three (3) homes that are under contract in Tysons Green.  The first...
Continue Reading
>
Tysons Corner Courthouse Station Home Sales Report November 2016 Courthouse Station is a neighborhood of townhomes in Tysons Corner's Vienna zip code 22182.  It is close to the beltway and route 7, off of Gallows Road.  Landmarks close to this community are Joyce Kilmer Middle School, and also the Dunn Loring Volunteer Fire Station. If you wanted to buy a home in Courthouse Station, there is only 1 available.  This home is located at 8043 Trevor Place, Vienna, Virginia 22182.  The home...
Continue Reading
>
September 2016 Homes for Sale in the Yacht Club in Falls Church 22042 This neighborhood of Townhomes is located in Falls Church's 22042 zip code just east of where Route 50 and the beltway (495) meet.  It is a gated community.  There are townhouses with no garage, 1 car garage, or even 2 car garage.  The Yacht Club is attractively located near a small lake.  The community is also close to the Fairfax County Providence Recreation Center. Right now there are two...
Continue Reading
>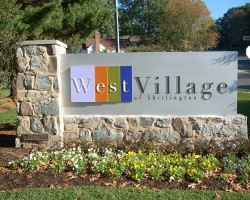 For Sale at West Village of Shirlington July 2016 This Arlington condominium community is close to Route 395, just across the way from Shirlington, and not too far from Glebe Rd.  It's great for people who want to enjoy the outdoor recreation that's available all along four mile run.  The community also offers an outdoor pool, clubhouse, nice common grounds, and a fitness center. Right now in the West Village of Shirlington condominium neighborhood there are 8 homes for sale.  These homes... Continue Reading >
Gates of McLean Home Sales Report December 2015 In the video, and below are the recent home sales statistics for the Tysons Corner Condominium community, The Gates of McLean.  This great community is a block from the Tysons East Silver Line McLean Metro Station at the intersection of Route 123 and Scott's Crossing.  The McLean zip code 22102 community is gated and many of the buildings, but not all, have garage parking.  The clubhouse also has a # of appealing amenities:...
Continue Reading
>