Agent Knows Northern Virginia Homes
Home
Tyson's Corner Video Category
Tysons Corner Courthouse Station Home Sales Report November 2016 Courthouse Station is a neighborhood of townhomes in Tysons Corner's Vienna zip code 22182.  It is close to the beltway and route 7, off of Gallows Road.  Landmarks close to this community are Joyce Kilmer Middle School, and also the Dunn Loring Volunteer Fire Station. If you wanted to buy a home in Courthouse Station, there is only 1 available.  This home is located at 8043 Trevor Place, Vienna, Virginia 22182.  The home...
Continue Reading
>
Gates of McLean Home Sales Report December 2015 In the video, and below are the recent home sales statistics for the Tysons Corner Condominium community, The Gates of McLean.  This great community is a block from the Tysons East Silver Line McLean Metro Station at the intersection of Route 123 and Scott's Crossing.  The McLean zip code 22102 community is gated and many of the buildings, but not all, have garage parking.  The clubhouse also has a # of appealing amenities:...
Continue Reading
>
July 2014 22182 Townhome Sales In this video filmed yesterday, July 16th, 2014, Jeff Wu (local Realtor) talks about what's For Sale, Under Contract, and Recently SOLD in the 22182 real estate niche of town homes. For Sale Now = 9 town homes currently for sale in the 22182 zip code.  They range in list price from $519,000 to $988,000.  And they have been on the market as little as 4 days, and as long as 68 days.  There are town homes for...
Continue Reading
>
For Sale in Westwood Village Tysons Condos For Sale right now in Westwood Village there is 1 great home. It's at 1547 Northern Neck Drive, #102. This home is a 2 bedroom 2 bathroom 2 level townhome condo. Some of this homes fine features area a great open kitchen, wood floors, a deck, recessed lighting, 3 sided gas fireplace, front loader washer and dryer, walkout lower level, large dual shower head master bath enclosure, and more. In no other neighborhood can you...
Continue Reading
>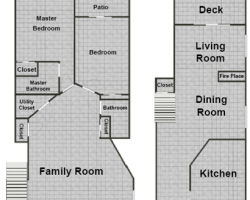 1547 Northern Neck Vienna 22182 For Sale Beautiful bright end unit condo in Westwood Village! 2 level condo with 2 bedrooms and 2 baths at 1547 Northern Neck Vienna 22182 For Sale! Close to Tysons corner and all it has to offer! The cook in the family will love the spacious kitchen with stainless steel appliances! Spacious bedrooms and an open floor plan make this condo a comforting space to call home! A luxury double shower in the master bath is... Continue Reading >
Park Crest Condo Sales Report Tysons Corner Park Crest Condo building in Tysons Corner, also known as One Parkcrest, is a great luxury condo community in the McLean 22102 zip code. The community is located right next door to both a Starbucks coffee cafe, as well as a Harris Teeter grocery store. That is very convenient. And it's also very close proximity to Tysons Galleria and the Tysons Corner Center Malls. Park Crest Condo Sales Data Active and For sale right now in...
Continue Reading
>
Clydes Restaurant in Tysons Corner Clydes is a great local restaurant here in Tysons Corner serving American saloon style food. Come in and enjoy a variety of menu items from salad, steak and seafood to burgers and sandwiches. You can also check out Clydes classic American style fare on their menu. In speaking with the General Manager Paul McGuinness, he informed us that Clydes restaurant has been established in the Washington DC area for over 50 years. Their first restuarant in Georgetown opened...
Continue Reading
>
Tysons Overlook New Home for LMI Tysons Overlook is a brand new commercial office building being built between the Gannett building and the Hilton Headquarters in Tysons Corner. It is off of Jones Branch Drive. And right next to a new on and off ramp for the 495 Express Lanes. LMI, a current Tysons Corner company, is going to be the main tenant/occupant for this building. LMI is a government contracting company, referred to as a "Federal Managed Consultancy." It...
Continue Reading
>
Morgan at McLean Condo sales update Here on site is Jeff Wu, local Tysons Corner (McLean + Vienna) Real Estate Specialist, telling what's for sale, under contract, or sold in this condo complex in the McLean 22102 zip code. The Morgan at McLean is an attractive upscale condo building that is located very close to where Route 66 meets Route 123 in Tysons Corner.  It is less than a mile to Safeway, The Lost Dog Cafe, and also a Gas Station.  And...
Continue Reading
>
Gates of McLean Home Sales Report This great Condo community is in a prime location 1 block from the Dulles Metro Silver Line.  The Dulles Metro Silver line is poised to open in February or March of the new year (2014).  Although region wide inventory has been low, interest in the Gates of McLean has been steady.  See below the data on what's For Sale at the Gates of McLean, what's Under Contract at the Gates of McLean, and what's sold...
Continue Reading
>