Agent Knows Northern Virginia Homes
Home
Vienna Video Category
Tysons Green Vienna Virginia Home Sales Report for June 2017 Tysons Green is a single family home neighborhood off of Old Courthouse Road in the Vienna Virginia 22182 zip code.  It is located adjacent and to the west of the Westbriar Elementary School area.  And also very close to what's referred to as Tysons Corner. Right now there are zero (0) homes actively available for sale in Tysons Green. There are three (3) homes that are under contract in Tysons Green.  The first...
Continue Reading
>
Tysons Corner Courthouse Station Home Sales Report November 2016 Courthouse Station is a neighborhood of townhomes in Tysons Corner's Vienna zip code 22182.  It is close to the beltway and route 7, off of Gallows Road.  Landmarks close to this community are Joyce Kilmer Middle School, and also the Dunn Loring Volunteer Fire Station. If you wanted to buy a home in Courthouse Station, there is only 1 available.  This home is located at 8043 Trevor Place, Vienna, Virginia 22182.  The home...
Continue Reading
>
July 2014 22182 Townhome Sales In this video filmed yesterday, July 16th, 2014, Jeff Wu (local Realtor) talks about what's For Sale, Under Contract, and Recently SOLD in the 22182 real estate niche of town homes. For Sale Now = 9 town homes currently for sale in the 22182 zip code.  They range in list price from $519,000 to $988,000.  And they have been on the market as little as 4 days, and as long as 68 days.  There are town homes for...
Continue Reading
>
Shouse Village Vienna Home Sales Vienna is full of unique neighborhoods.  Shouse Village is one of those.  It's filled with single family homes in a neighborhood that's tucked in close off of route 7.  This neighborhood is also close to the Wolftrap performing arts center.  And if is accessible to and from the toll road (route 267). Shouse Village also has it's own pool. Watch the video to find out what's For sale in Shouse Village, and what's under contract in Shouse Village....
Continue Reading
>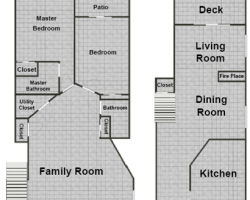 1547 Northern Neck Vienna 22182 For Sale Beautiful bright end unit condo in Westwood Village! 2 level condo with 2 bedrooms and 2 baths at 1547 Northern Neck Vienna 22182 For Sale! Close to Tysons corner and all it has to offer! The cook in the family will love the spacious kitchen with stainless steel appliances! Spacious bedrooms and an open floor plan make this condo a comforting space to call home! A luxury double shower in the master bath is... Continue Reading >
Real Estate Sales Report Tysons Corner Townhouses What's going on in Tysons Corner Townhouse sales? Find out right here in this video blog. See below for update on Active "For Sale," Under Contract, and Sold real estate statistics for Tysons Corner Townhomes. Quick reminder, Tysons Corner, consists of part of Vienna 22182 and McLean 22102 zip codes. Active (a.k.a. "For Sale") - 4 Tysons Corner Townhouses for sale now - List Prices ranging from $690k - These homes are for sale in the neighborhoods:...
Continue Reading
>
Tysons Corner Real Estate Report McLean 22102 and Vienna 22182 Here Jeff Wu, local Real Estate Specialist, talks about key statistics in local Real Estate.  Focus is on closed month data of September 2012 vs. September 2013 in McLean zip code 22102 and Vienna zip code 22182.  These are the 2 zip codes that come together from McLean and Vienna to make Tysons Corner. Real Estate has done well in 2013 in terms of positive growth of appreciation and value. That is congruent...
Continue Reading
>
Westbriar Elementary School Jeff Wu, local Realtor, is here in front of Westbriar Elementary School in Vienna.  This Vienna elementary school pulls students from residences in the Tysons Corner area zip code of 22182, as well as the Vienna Town zip code of 22180.  And just as it pulls from these two different areas in Tysons Corner and Vienna, it also feeds to two different high school pyramids.  Westbriar Elementary School students eventually go to either Marshall High school for the...
Continue Reading
>
Tysons Corner Buildings 2070 Chain Bridge Road Jeff Wu, local Realtor, and Real Estate Specialist for Tysons Corner - McLean - Vienna - and surrounding areas, stands here in front of 2070 Chain Bridge Road.  This iconic building is in the Vienna 22182 zip code of Tysons Corner.  2070 Chainbridge Road has a very distinct look to the exterior of the building.  Many people have referred to the building as the "Horshoe" shaped building, or even another less flattering name. Whatever you...
Continue Reading
>
Westwood Village Home for Sale Walk to Metro 1510 Northern Neck Dr, #201, Tysons Corner, VA 22182 This home is FOR SALE right now in the Vienna 22182 zip code of Tysons Corner.  Click on the image above to watch the video tour, or click here to see 1510 Nothern Neck Drive #201, Vienna, VA 22182 - videos will always tell you more about a home than a few bullet pointed features.  But we've included the features for this Tysons Corner townhome...
Continue Reading
>