Agent Knows Northern Virginia Homes
Home
Videos Category
Hallcrest Heights McLean Real Estate Sales Report Jeff Wu, Tysons Corner McLean Vienna and surrounding area Real Estate Specialist, is here on August 15th 2013 in Hallcrest Heights McLean Townhome neighborhood.  This McLean Realtor gives a sales report on what is For Sale in Hallcrest Heights, Under Contract in Hallcrest Heights, and Sold this year in Hallcrest Heights. Hallcrest Heights is a townhome neighborhood in the 22102 zip code of McLean.  It is boardered by Route 123 (aka Dolley Madison Boulevard) on...
Continue Reading
>
Tysons Corner Buildings 2070 Chain Bridge Road Jeff Wu, local Realtor, and Real Estate Specialist for Tysons Corner - McLean - Vienna - and surrounding areas, stands here in front of 2070 Chain Bridge Road.  This iconic building is in the Vienna 22182 zip code of Tysons Corner.  2070 Chainbridge Road has a very distinct look to the exterior of the building.  Many people have referred to the building as the "Horshoe" shaped building, or even another less flattering name. Whatever you...
Continue Reading
>
Lillian Court Sales update and Coming Soon Home for Sale Jeff Wu, Real Estate Specialist focusing on Tysons Corner Home Sales, McLean Home Sales, and Vienna Home Sales, is here today in front of the Lillian Court condo community with #1 a neighborhood home sales update #2 a neighborhood home rentals update and #3 a quick sound bite about an upcoming 2 bedroom 2 bathroom condo he'll be selling late next week in this Tysons Corner condo community. #1 Right now, this second,...
Continue Reading
>
Westwood Village Home for Sale Walk to Metro 1510 Northern Neck Dr, #201, Tysons Corner, VA 22182 This home is FOR SALE right now in the Vienna 22182 zip code of Tysons Corner.  Click on the image above to watch the video tour, or click here to see 1510 Nothern Neck Drive #201, Vienna, VA 22182 - videos will always tell you more about a home than a few bullet pointed features.  But we've included the features for this Tysons Corner townhome...
Continue Reading
>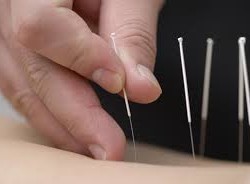 Tysons Corner Acupuncture Jeff Wu after a healthy Whole Foods lunch in the Falls Church location, also referred to as the Tysons Corner Whole Foods, with Ron Elkayam. Ron is an Acupuncturist who has studied in China. He is fluent in Chinese and versed in many areas of Eastern culture and the healing arts. Ron's Acupuncture practice is also referred to as The Elkayam Center for Integrative Medicine. It is located at = 2106 Gallows Rd., Ste. C, Vienna, VA 22182 In this video, Ron answers... Continue Reading >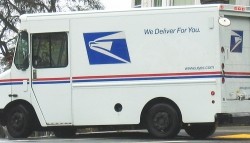 Tysons Corner Post Office Tysons Corner area has a lot to offer. And a full service United States Post Office is just one of the many amenities in and around Tysons Corner. The video above shows local Real Estate Specialist, and Realtor, Jeff Wu, in front of the Tysons Corner Post Office. The Tysons Corner Post Office is located at 1544 Spring Hill Road, McLean, VA 22102. It's a great location between cross roads of Greensboro Drive and Route 7 (Leesburg Pike). The Tysons... Continue Reading >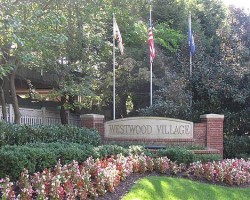 Tysons Village and Westwood Village Sales Report Find out about the Real Estate Sales in both of these Tysons Corner neighborhoods for 2013 year to date. These two great neighborhoods share some common amenities with the clubhouse and also the pool and fitness center.  They are really well located only a block or two from the future Silver Line metro stop by Spring Hill.  And they are right next door to the Sheraton, and future 24 hour fitness, urban walmart, and restaurants. Your... Continue Reading >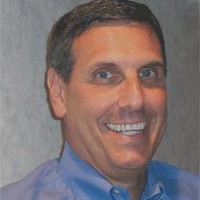 Tysons Corner Interview Gary Levine WSI Digital Marketing In this edition of the Agent Knows Homes team Tysons Corner Business interviews Jeff Wu, Tysons Corner Real Estate Salesperson and Specialist, interviews Gary Levine of WSI Digital Marketing. Gary Levine and his company, WSI Digital Marketing, offer all different types of web services.  From hosting to web creation to search engine optimization.  They can help you create a brand new site, or fix an existing one.  Gary can also have his company create... Continue Reading >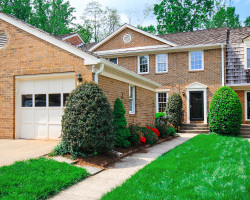 Oakton Garage Townhome For Sale 2916 Oakborough Square, Oakton, VA 22124 [access floor plan and photos above to this Oakton Garage Townhome For Sale] This great garage townhome in Oakton Virginia is just listed in the Oakborough square townhome neighborhood.  The neighborhood is really well located right across from the back side of Oakton Elementary School.  It's also an easy walk to multiple strip malls with shopping, restaurants, grocery, and more!  Plus there is a nice playground right near the neighborhood in a... Continue Reading >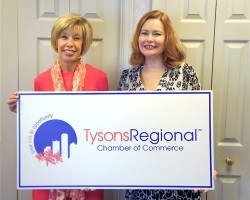 In a recent interview with Tysons Regional Chamber of Commerce President I asked Lisa Huffman about the chamber.  She confirmed that it's a business that's designed to help other local businesses. I'm a Tysons Regional Chamber member, and really see the value of participating in such a great organization. They offer many benefits such as: networking, advocacy, education, and more! When I asked about the Tysons Regional Chamber of Commerce and it's recent move to Tysons Corner - now located at... Continue Reading >