Agent Knows Northern Virginia Homes
Home
Videos Category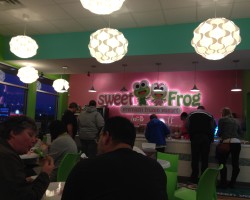 Real Estate is like Sweet Frog I know, you're saying, "what is he talking about?" Think about it. Let it sink in. Look at this picture above. I took it tonight. Yes, Saturday March 29th, 2014. The place is packed. The guy taking the payment from everyone at the register  was completely overwhelmed.  There was a line to pay.  C'mon, that's wild.  And I'm sure welcome at a cold dessert place that probably doesn't get a ton of business in the colder... Continue Reading >
End of Winter Report McLean Townhome sales Well at least I hope it's the end of Winter.  This video, and data in it, was filmed  3/5/14.  Get an update on what is happening in the Real Estate sub-market for McLean Townhomes.  And referring directly to the two zip codes in McLean, 22102 and 22101. For sale now in McLean Townhomes = Right now there are 9 town homes for sale in McLean zip codes 22102 and 22101. These have been on the market as...
Continue Reading
>
Tysons Overlook New Home for LMI Tysons Overlook is a brand new commercial office building being built between the Gannett building and the Hilton Headquarters in Tysons Corner. It is off of Jones Branch Drive. And right next to a new on and off ramp for the 495 Express Lanes. LMI, a current Tysons Corner company, is going to be the main tenant/occupant for this building. LMI is a government contracting company, referred to as a "Federal Managed Consultancy." It...
Continue Reading
>
Morgan at McLean Condo sales update Here on site is Jeff Wu, local Tysons Corner (McLean + Vienna) Real Estate Specialist, telling what's for sale, under contract, or sold in this condo complex in the McLean 22102 zip code. The Morgan at McLean is an attractive upscale condo building that is located very close to where Route 66 meets Route 123 in Tysons Corner.  It is less than a mile to Safeway, The Lost Dog Cafe, and also a Gas Station.  And...
Continue Reading
>
Gates of McLean Home Sales Report This great Condo community is in a prime location 1 block from the Dulles Metro Silver Line.  The Dulles Metro Silver line is poised to open in February or March of the new year (2014).  Although region wide inventory has been low, interest in the Gates of McLean has been steady.  See below the data on what's For Sale at the Gates of McLean, what's Under Contract at the Gates of McLean, and what's sold...
Continue Reading
>
Food For Others Feeding Northern Virginia It's important to me to contribute to the community. I've been fortunate over the years to become connected with Food For Others. Like real estate, my business, it's a basic need. People need a place to live, and they need to eat. Food For Others is a great local non-profit organization. They focus on helping those in need. They have ongoing food assistance programs, emergency programs, and they also go to 9+ locations across Fairfax County...
Continue Reading
>
Real Estate Sales Report Tysons Corner Townhouses What's going on in Tysons Corner Townhouse sales? Find out right here in this video blog. See below for update on Active "For Sale," Under Contract, and Sold real estate statistics for Tysons Corner Townhomes. Quick reminder, Tysons Corner, consists of part of Vienna 22182 and McLean 22102 zip codes. Active (a.k.a. "For Sale") - 4 Tysons Corner Townhouses for sale now - List Prices ranging from $690k - These homes are for sale in the neighborhoods:...
Continue Reading
>
Fountains at McLean Condo Sales The Fountains at McLean is a condo neighborhood across the street from one of Tysons Corner's major employers, Freddie Mac. It's also super close to the intersection of International Dr and the Toll Road (route 267).  It's an easy to get to the Harris Teeter grocery store, as it's less than a block away. The Fountains at McLean offers it's residents many amenities.  Some of those amenities are: Clubhouse, Game Room, Conference Room, Fitness Center, Outdoor Pool,...
Continue Reading
>
Home Owner Tip for the Winter Make sure you protect your biggest purchase.  Yes, your home.  Most people know to have their Heat/AC checked by a licensed HVAC technician twice a year.  Another good seasonal prevention item is to take care to turn off your exterior hose bibs.  It's not as simple as turning them off on the outside.  Whether you own a home in Fairfax County Virginia, Montgomery County Maryland or even in the District of Washington DC, you may...
Continue Reading
>
Tysons Corner Talk with John Foust Sometimes if you're not in politics it's hard to tell how it all works.  Jeff Wu, a Real Estate Specialist in Tysons Corner, McLean, Vienna, and surrounding area, is here talking in this recent video with Fairfax County Supervisor John Foust.  One of the first questions Jeff asks, is "What is a Fairfax County Supervisor?" John answers that question.  He explains that the Fairfax County Supervisors are a Board made up of elected individuals from the...
Continue Reading
>