Agent Knows Northern Virginia Homes
Home
Market Trends Category
Clydes Restaurant in Tysons Corner Clydes is a great local restaurant here in Tysons Corner serving American saloon style food. Come in and enjoy a variety of menu items from salad, steak and seafood to burgers and sandwiches. You can also check out Clydes classic American style fare on their menu. In speaking with the General Manager Paul McGuinness, he informed us that Clydes restaurant has been established in the Washington DC area for over 50 years. Their first restuarant in Georgetown opened...
Continue Reading
>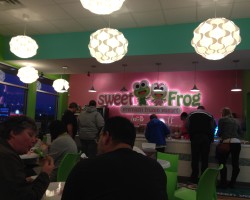 Real Estate is like Sweet Frog I know, you're saying, "what is he talking about?" Think about it. Let it sink in. Look at this picture above. I took it tonight. Yes, Saturday March 29th, 2014. The place is packed. The guy taking the payment from everyone at the register  was completely overwhelmed.  There was a line to pay.  C'mon, that's wild.  And I'm sure welcome at a cold dessert place that probably doesn't get a ton of business in the colder... Continue Reading >
End of Winter Report McLean Townhome sales Well at least I hope it's the end of Winter.  This video, and data in it, was filmed  3/5/14.  Get an update on what is happening in the Real Estate sub-market for McLean Townhomes.  And referring directly to the two zip codes in McLean, 22102 and 22101. For sale now in McLean Townhomes = Right now there are 9 town homes for sale in McLean zip codes 22102 and 22101. These have been on the market as...
Continue Reading
>
Condo for sale at Gates of Mclean. 1 block to metro Danielle floor plan Garage Parking Private Balcony Secure Building View of courtyard Check out this video for a tour of the Gates of McLean. (1) For more info on this property, or (2) A FREE market analysis of your home, or (3) Info on our next FREE real estate seminar Call or Email Jeff Wu Phone:571-248-1110 Email: Jeff@AgentKnowsHomes.com Continue Reading >
Tysons Overlook New Home for LMI Tysons Overlook is a brand new commercial office building being built between the Gannett building and the Hilton Headquarters in Tysons Corner. It is off of Jones Branch Drive. And right next to a new on and off ramp for the 495 Express Lanes. LMI, a current Tysons Corner company, is going to be the main tenant/occupant for this building. LMI is a government contracting company, referred to as a "Federal Managed Consultancy." It...
Continue Reading
>
Tysons Corner Mall and Metro The Tysons Corner are is abuzz with energy. Lots of that is due to the great infrastructure improvements with the 4 new metro stations and also the new access points with the 495 Express Lanes. Metro most of all has a high level of anticipation as it is slated to open and begin operation in just a few short months. Much has occurred behind the scenes in terms of plans for the Tysons Corner area,...
Continue Reading
>
Morgan at McLean Condo sales update Here on site is Jeff Wu, local Tysons Corner (McLean + Vienna) Real Estate Specialist, telling what's for sale, under contract, or sold in this condo complex in the McLean 22102 zip code. The Morgan at McLean is an attractive upscale condo building that is located very close to where Route 66 meets Route 123 in Tysons Corner.  It is less than a mile to Safeway, The Lost Dog Cafe, and also a Gas Station.  And...
Continue Reading
>
Gates of McLean Home Sales Report This great Condo community is in a prime location 1 block from the Dulles Metro Silver Line.  The Dulles Metro Silver line is poised to open in February or March of the new year (2014).  Although region wide inventory has been low, interest in the Gates of McLean has been steady.  See below the data on what's For Sale at the Gates of McLean, what's Under Contract at the Gates of McLean, and what's sold...
Continue Reading
>
Real Estate Sales Report Tysons Corner Townhouses What's going on in Tysons Corner Townhouse sales? Find out right here in this video blog. See below for update on Active "For Sale," Under Contract, and Sold real estate statistics for Tysons Corner Townhomes. Quick reminder, Tysons Corner, consists of part of Vienna 22182 and McLean 22102 zip codes. Active (a.k.a. "For Sale") - 4 Tysons Corner Townhouses for sale now - List Prices ranging from $690k - These homes are for sale in the neighborhoods:...
Continue Reading
>
Tysons Corner properties for rent. We currently have 5 great properties available for rent in Tysons Corner ranging in price from $1,295 to $2,800. 2 of our rental properties are located at the Fountains at McLean. Both are 1 bedroom 1 bath condos. 1 is priced at $1,350 and features vaulted ceilings and a fireplace, perfect for keeping cozy this cold winter. The other property is $1,295 and features new paint and new carpet throughout! The Fountains at Mclean is located in... Continue Reading >